Pros: Top four finishes out of the seven tour stop counts for your total points.
AMs: Top four finishes out of six tour stop counts for your total points.
The points structure is as follows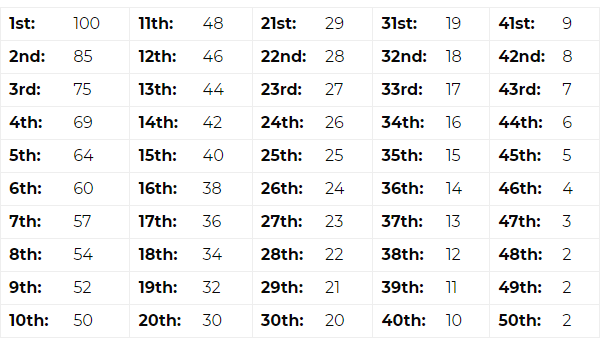 Every player who completes the tournament but finishes behind the player in the 50th earns one tour point. If a player competes in more than three SDGPT competitions only their top three finishes count toward their points total.
How do Ties Affect tour points?
When ties occur you add up all the points from the ties and divide them evenly among the tied players.
Example, three players ties at 21st place. In our table above the 21st place gives 29 points, since it's a three way ties they will all instead get 28 points. Here's the math:
1st = 29 points 22nd = 28 points 23rd = 27 points
29 + 28 + 27 = 84
84 ÷ 3 = 28 points.
Playoffs
Under normal conditions, there can be no tie for first at a SDGPT event. All players tied for the lead at the end of a tournament's normal round compete in a sudden-death playoff. The playoff winner is the first place and earns the full 100 points. In the case with a playoff with more than two players – the player who wins the playoff gets solo first place. Every player who does not win the playoff is tied for second and get the same number of points – regardless of if they remain in the playoff for longer than another non-winner.
The only exception to the rules on first place ties is if a tournament must end early (most likely due to dangerous weather conditions). 1.09 D.2 from the PDGA official rules and regulation is applied.
 The top 16 MPO and 8 other divisions players with the most tour points in their respective divisions receive invitations to complete in the SDGPT/SDGAT Championship. 
The tour points leader in each division after each season is complete is crowned the Tour Points Champion.
Points are 25% factor for the Player of the Year and Amateur of the Year award. The other 75% is equally divided between Tour Championship finish, fan vote and media vote.
The Rookie of the Year is the player with the highest number of points who has less than two attended SDGPT event over previous years. The first year it will be decided based on PDGA-membership status.